Papa John's Locations Worldwide by Country 2022
Papa John's International is a food/ restaurant company with locations worldwide that run pizza delivery and takeout restaurants serving under the trademark of Papa John's.
The primary service is carryout pizza and delivery via phone and online orders, although some restaurants with tables or chairs are available.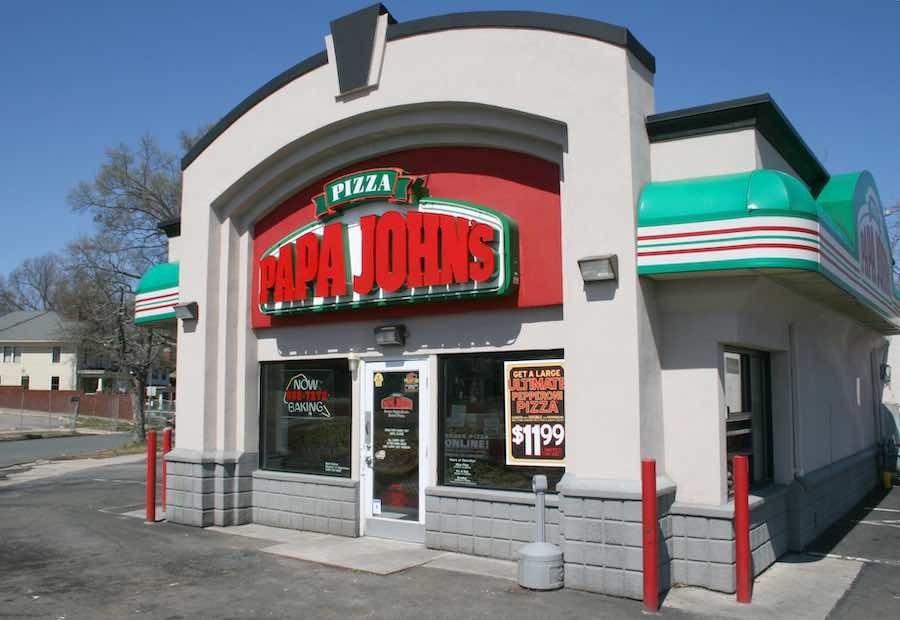 The company headquarters are located in Louisville, Kentucky and Atlanta, Georgia, metropolitan areas.
John Schnatter founded Papa John's Pizza on October 2, 1984, in Jeffersonville, Indiana. Schnatter's initially invested $1600 into pizza equipment and began operating out of a broom closet in the back of his father's tavern.  
The business grew rapidly, with the company going public in 1993, with 500 stores open one year later, in 1994. By 1997, the number of Papa John's restaurants had tripled to 1500. As of 2022, there are over 5,500 Papa John's Restaurants worldwide in 49 countries and territories.
That means that whether you're in Canada, Latin America, India, Pakistan, Chile, the United States or even Korea, you're sure to find a Papa John's restaurant near you.
Papa John's Operations & Franchises
Papa John's International Inc. (PZZA) has been a publicly listed company on the NASDAQ since 1993. Its share market price began its journey at $2.25 per share in 1993, hitting its peak in late 2021 at $140 per share. As of October 2022, the price was sitting at around half its peak at $72.
Papa John's is currently the third largest pizza chain in the United States, behind Pizza Hut and Domino's. Franchises are available in all 50 states and over 30 countries. The cost of a Papa John's Pizza franchise varies depending on location, but the average investment is $350,000. In addition, Papa John's requires a minimum net worth of $250,000 and liquidity of $125,000 for all franchisees. There is also a $25,000 initial franchise fee, a royalty fee of 5% on net sales, and an advertising fee of 8% of net sales.
Papa John's offers financing options for qualified franchisees through third-party lenders. The process begins with filling out an online form for those looking to get into the Papa John's franchise family. After that, someone from the franchising team will reach out to discuss the next steps. Papa John's Pizza is a great opportunity for those who love pizza and want to be their own boss!
Papa John's pizza motto is "Better Ingredients, Better Pizza" and one of the distinct characteristics about the pizza is its use of fresh vegetable toppings and its slightly sweet flavor.
According to Papa John's Pizza company website the "better Pizza" ingredients used include, sunflower oil, salt, garlic, spices, olive oil, citric acid, and sugar. The cheese is a part-skim mozzarella cheese blend made with modified food starch, a whey protein concentrate, sodium citrate, and sugar. The pizza dough uses unbleached enriched wheat flour, water, salt, yeast, soybean oil and of course sugar.
View our Calories in Papa John Pizza article with Nutrition Calculator.
Papa Johns makes pizzas in the following pizza sizes – 
SMALL – 10 inches 

MEDIUM – 12 inches 

LARGE – 14 inches

EXTRA LARGE 16 inches
Papa John's International Locations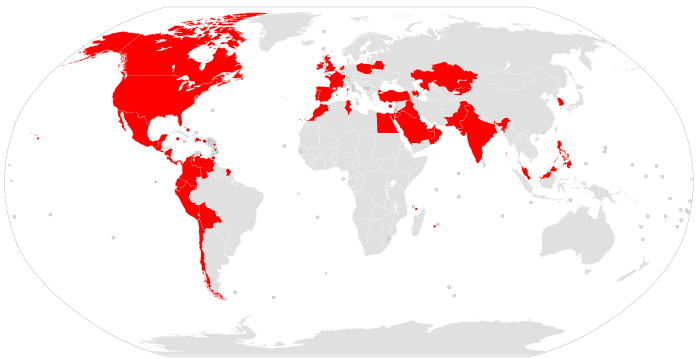 United States, Canada and Mexico
In the U.S., there are over 3,100 Papa John's locations. So wherever you are in the U.S., whether it's a big city like New York or Los Angeles or a small town like Hannibal, Missouri (made famous by Mark Twain), you can find Papa John's nearby.
If you're ever in Canada, you'll find Papa John's locations from coast to coast, at over 185 locations and 109 cities from Vancouver to Halifax.
Mexico Papa John's stores are on the decline. In 2017 there were over 100 restaurants south of the border, which by 2021 had declined to just 68 stores.
Papa John's International has also been expanding its presence in recent years. In Europe, there are over 1,000 Papa John's restaurants, with new locations always opening up. Papa John's international reach in Europe includes Azerbaijan, Belarus, Cyprus, France, Ireland, Netherlands, Poland, Spain, Turkey and the United Kingdom.
The Middle East & North Africa
Papa John's Pizza stores have been a big hit in the Middle East and North Africa, with over 260 restaurants now open for business. You can find Papa John's Pizza restaurants in Bahrain, Egypt, Erbil, Israel, Kuwait, Morocco, Oman, Qatar, Saudi Arabia, Tunisia and the United Arab Emirates. 
In November, the Papa John's Pizza company announced plans to open 60 restaurants in Kenya in Uganda in the coming years, along with franchise partner Kitchen Express.
Latin America and the Caribbean
Papa John's pizza is one of the most popular pizza chains in Central and South America and the Caribbean. The company was founded in 1984 in the United States. Today it has restaurants in over 80 countries around the world. Papa John's Pizza offers a wide variety of pizzas, as well as sides, desserts, and drinks. It has been successful in Latin America and the Caribbean thanks mainly to its focus on quality ingredients and customer satisfaction. 
Papa John's Pizza has restaurants in the following countries – Bahamas, Bolivia, Cayman Islands, Chile, Columbia, Costa Rica, Dominican Republic, Ecuador, El Salvador, Guatemala, Mexico, Nicaragua, Panama, Peru, Puerto Rico, Trinidad & Tobago and Venezuela.
Papa John's Pizza made a change to its branding in late 2021. The company announced that it would be dropping the apostrophe from the "Papa John's" name from its logo and stores and opting for a more simplified look.  
The move comes as the pizza chain looks to distance itself from its former CEO, John Schnatter, who stepped down in 2018 after claims of using racial slurs during a conference call in 2018. The new logo simply reads "Papa Johns" in a more vibrant Tomato red.
In January 2002, Papa John's became the first national pizza chain to make online ordering available to all its U.S. customers.

In 2019, Shaquille O'Neal joined the board of papa john's, becoming a spokesperson for the brand. He is no stranger to the Papa John's brand, having previously been a customer and fan of the pizza chain. Since joining the company, Shaquille has been an outspoken advocate for Papa John's, regularly appearing in commercials and social media posts.

In September 2012, the 4,000th Papa John's Pizza restaurant opened in New Hyde Park, New York. The company celebrated the event by giving away 4,000 free pizzas to customers throughout New York City.

Dipping sauce specifically for pizza was invented by Papa John's Pizza in 1984 and has since become extremely popular when eating pizza, especially the crust.
Summing Up Papa Johns Worldwide Locations
No matter where you are in the world, there's probably a Papa John's pizza restaurant nearby! With over 5,500 restaurants worldwide, the chances are pretty good that you're never more than a few minutes away from some delicious pizza. So what are you waiting for? Go out and enjoy some Papa John's today!